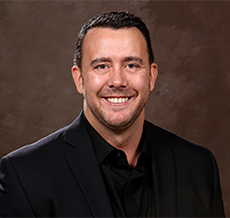 View Full Profile Dr. Liddell's Team
Dr. Liddell is board certified by the American Board of Orthopedic Surgery. He is a fellow in the American Academy of Orthopedic Surgery, and is also an active member of the Arthroscopy Association of North America as well as the Society of Military Orthopedic Surgeons.
He specializes in a wide range of orthopedic services and procedures, in particular minimally invasive arthroscopic treatment of sports related injuries, and joint replacement surgery. He continues to stay at the cutting-edge of his field to be able to offer his patients the most advanced treatments in orthopedic surgery, to include stem cell injections, knee and hip arthroscopy, and all-arthroscopic treatment of shoulder conditions to include repairable and non-repairable rotator cuff tears. Dr. Liddell also has specialized training in joint replacement, to include Direct Anterior Hip Replacement and Robotic Hip and Knee replacement.
He has received multiple awards for his research work in orthopedic surgery as well as several other awards for his military service as an orthopedic surgeon. While providing care for our military's men and women in a combat zone, he was awarded the Bronze Star for his service during Operation Iraqi Freedom.